Upcoming at FRCA Synod 2018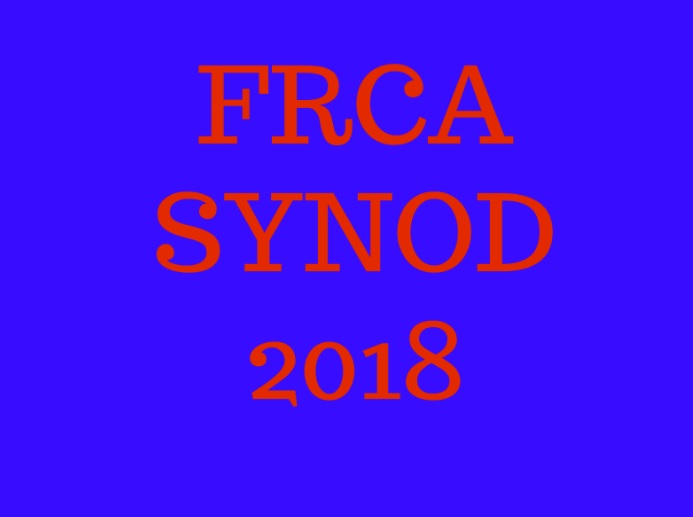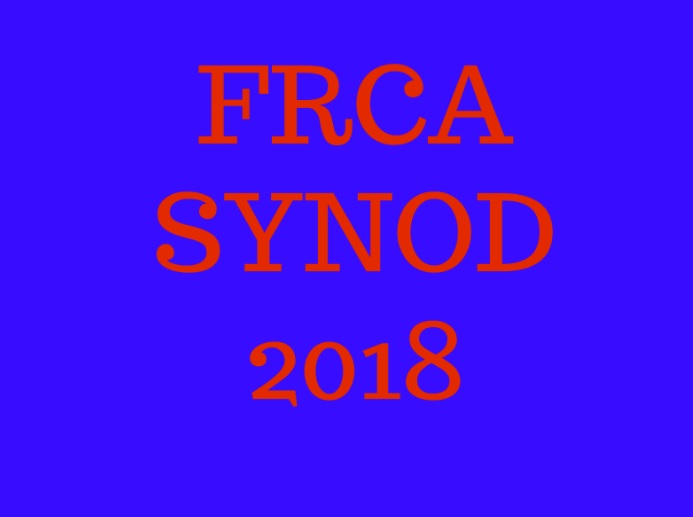 In a little more than a month, the Free Reformed Churches of Australia will be having their synod. While convened by the church at Bunbury, the proceedings are to be hosted by the Southern River FRC in the Perth Metro area of WA. I've posted before on some of the more noteworthy items on the agenda — click here. Since then, the provisional agenda for this synod has continued to grow. In this post, I'll mention a few more points of interest.
In the Free Reformed Churches, delegation to synod comes via the classis (as opposed to regional synod in the CanRC). These are the primary delegates for Synod 2018 from each classis:
Classis North
Ministers: Rev. R. Bredenhof, Rev. W. Bredenhof, Rev. A. Souman
Elders: Elder W. Spyker, Elder H. Hamelink, Elder T. Reitsema
Classis Central
Ministers: Rev. D. Anderson, Rev. A. Hagg, Rev. C. Vermeulen
Elders: Elder E. Heerema, Elder H. Terpstra, Elder J. Torenvliet
Classis South West

Ministers: Rev. H. Alkema, Rev. R. Pot, Rev. S. t'Hart
Elders: Elder S. Bolhuis, Elder H. Olde, Elder W. Vanderven
Every synod also includes fraternal delegates. This year's list has a few standouts. As mentioned previously, the Southern FRC has put forward a proposal to investigate ecumenical relations with the Orthodox Presbyterian Church. The OPC is slated to have a presence at our synod in the person of Rev. Jack Sawyer.
Also, I noted before that there's a recommendation from our deputies to terminate our relationship with the Reformed Churches in the Netherlands. The Dutch have decided to send not only Rev. Johan Plug (on behalf of their Committee on Relations with Churches Abroad), but also Rev. Dr. Melle Oosterhuis, the chairman of their last synod. These men have been mandated by Synod Meppel to provide an explanation to our synod regarding the decision to open all the offices of the church to women. Will they avert what appears inevitable?
While not officially delegated, I'm told there will also be observers from Reformed churches in Indonesia and the Philippines.
Most synods also feature appeals. There are three of a public nature, all pertaining to the FRCA's relationship with the Reformed Churches of New Zealand. Three individual brothers believe this relationship is illegitimate and ought to be voided by Synod 2018. In response, one church has submitted a letter arguing that these types of appeals should be declared inadmissible, since article 31 of our FRCA Church Order only gives individual members the right to appeal decisions of minor assemblies whereby they have been personally wronged. It will definitely be a discussion to watch.
After receiving the deputies' reports, local consistories typically discuss these reports and then sometimes submit letters interacting with them. To date, two churches have submitted a number of letters, but one can expect more in the next week or two. Let me mention just a couple of the submissions thus far. Kelmscott submitted a letter asking Synod to remind the deputies to keep their reports succinct and clear, since there is only a short time for churches to consider them. In addition, they suggest that deputies submit annual reports if there will be more information to share than might be reasonable in a tri-annual report. Launceston sent a letter asking synod to appoint an official website committee which would include a mandate to refresh the look of the FRCA website and enhance its functionality with federational news and press releases.
Synod 2018 is scheduled to begin on June 18 with a prayer service. Updates or press releases should be published on the federational website (click here) — there's also an option of signing up to a synod update e-mail list.