Book Review: Christ Psalms, Our Psalms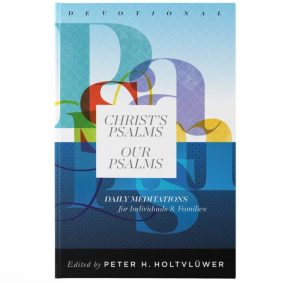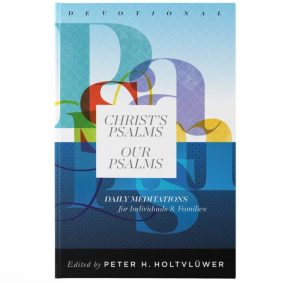 Christ's Psalms, Our Psalms: Daily Meditations for Individuals and Families, ed. Peter H. Holtvluwer, Little Angels Press, 2018. Hardcover, 383 pages, $21.00.
In 1972, a hit song was released by the American singer Carly Simon. Since then, the song has been covered numerous times by other singers. The refrain of the song goes, "You're so vain, you probably think this song is about you." Sadly, that's the way many Christians approach the Psalms. Because of our narcissistic age, we may automatically think these inspired songs are primarily about us. Yet the New Testament teaches us to regard them first as the songs of our Saviour and then, only in connection with him, are they about us. This new collection of devotions works on that sound biblical premise.
Authored by 16 Reformed ministers, Christ's Psalms, Our Psalms touches on each of the 150 psalms. Each psalm has at least two devotions, even the short ones like 117 and 131. Psalm 119 is the notable exception with 11 devotions. There are also two appendices. One has devotions on psalms related to events in Christ's ministry; the other has devotions on psalms for seasonal events like Thanksgiving.
While taking into account the context of the entire psalm, the devotions are based mostly on one verse or phrase. Sometimes supplementary readings are included — for example, one of the devotions on Psalm 65 is based on verse 4, and the reading is Psalm 65:1-4 with a supplementary reading from Jeremiah 31:1-14. As mentioned above, each devotion explicitly connects the psalm to Jesus Christ, and through him, to the reader. The devotions are consistently Christocentric, but also include appropriate application. Unlike some devotional books, Christ's Psalms, Our Psalms does not include prayers, but in most instances the appropriate way to respond in prayer would be self-evident.
I took the book for a "test-drive" over the period of about a month. My wife and I used it in our daily devotions together. Obviously we didn't read every single one of the devotions — we took a sampling. Based on that, we found that the devotions were not only edifying, but well-written, clear, and concise. I'm sure that even older children and teenagers would be able to grasp the content. Greatly enjoying our sample in the last month, my wife and I will go back to the beginning and definitely continue using it psalm by psalm.
As the editor, Rev. Peter Holtvluwer deserves a hearty commendation for spearheading this book. According to his website, we can look forward to more from him and his team of contributors. In 2019, they hope to publish a study resource on the Psalms. This will be a full-featured commentary intended mainly for pastors and teachers, drawing out in even more detail how each of the Psalms speaks to us of our Lord Jesus. The kind of spiritual narcissism that sees the Psalms as primarily about the believer is a serpentine poison keeping us from the main point of the whole Bible — God's revelation of Jesus Christ. If the devotional is any indication, the upcoming study resource will be another potent anti-venom. I look forward to it!