Review: The New City Catechism Devotional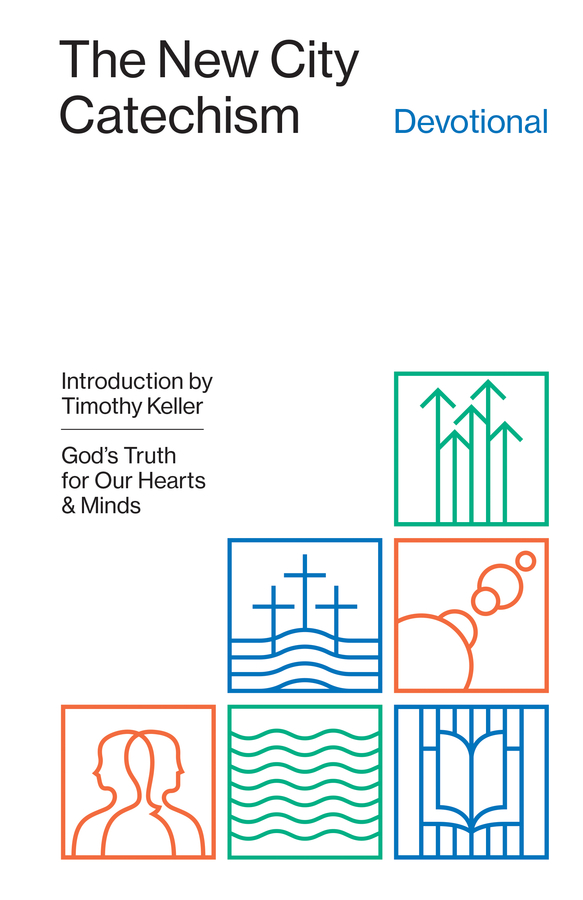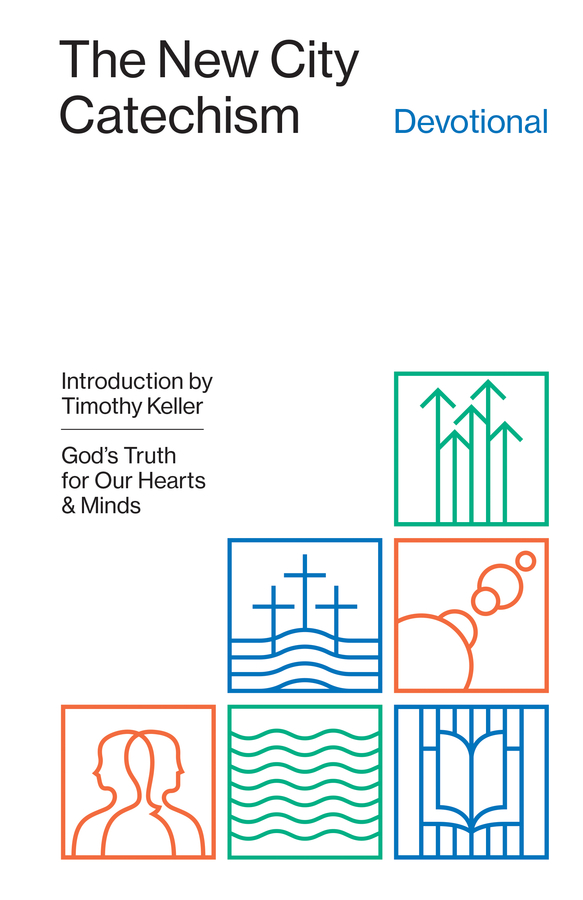 The New City Catechism Devotional, edited by Collin Hansen. Wheaton: Crossway, 2017. Hardcover, 238 pages.
I'm always on the lookout for new family worship resources. When I spotted this volume at my local Christian bookstore, I thought I'd check it out and give it a test run at home. So, for a couple of months recently, this devotional served as the catechetical instruction in our daily family worship. We read each question and answer, read the Scripture text, and then the contemporary commentary. There is also a brief commentary by a figure from history, but we skipped over that in the interests of time.
For those unaware, the New City Catechism is a teaching tool written by Timothy Keller and Sam Shammas. It appeared under 2014 under the auspices of The Gospel Coalition and Redeemer Presbyterian Church. It seeks to condense and modernize Reformation catechisms — there are clear echoes throughout of both the Heidelberg and Westminster Shorter Catechisms.
I have several observations about this devotional and it seems best to divide them into two parts. First, I'll comment briefly on the commentary and then a little more at length on the New City Catechism itself.
Contemporary Commentary
Each question and answer of the NCC has commentary, both historic and contemporary. Historic commentators include John Calvin and Augustine, but also less orthodox figures like John Wesley. The contemporary commentators are men such as Tim Keller, John Piper, Kevin DeYoung, Mark Dever, and Ligon Duncan.
Because there is such a variety of authors, the commentaries or devotional components are uneven. That happens with any compilation. Here too: some are short, some are long. Some read easier than others. Some have better illustrations or clearer teaching. Some were really good, others okay, and some mediocre.
I'm going to make some remarks further down about the New City Catechism and its teaching on baptism. But already here I want to note that from a confessionally Reformed (i.e. Three Forms of Unity) perspective, the teaching in the commentary on baptism is at best inadequate. If you are intending to use this devotional to teach your covenant children about the meaning of their baptism, then this book is not going to cut the mustard. There is certainly nothing here about baptism as a sign and seal of God's covenant. Baptists will appreciate it more than anyone.
The New City Catechism
There are some things to like about the NCC. It generally tracks with Reformation theology. The NCC speaks biblically about the unpopular doctrine of hell in QA 28. It draws attention to the cosmic significance of Christ's redemption in QA 26. In QA 34, obedience to God's commandments is motivated not only by thankfulness (as in the Heidelberg Catechism), but also by love for God.
However, there are also some significant weaknesses. There is one question and answer dealing with the Lord's Prayer. There is one question and answer dealing with the Apostles' Creed. There is a little more with the Ten Commandments — all ten are covered in four questions and answers. In trying to keep the NCC to fifty-two questions and answers, all these important elements of Christian catechesis have been given short-shrift. I'll gladly take my Heidelberger back, thank you very much.
Were I to write a contemporary catechism (not that I plan to), I would be sure to address contemporary concerns. The Heidelberg Catechism did that — look at Lord's Day 18 and its four questions and answers on the ascension. That was all because of polemics with Lutheran theology at the time. One of today's major battles has to do with creation and evolution. While the NCC has two questions and answers dealing with creation, there is nothing to address the threat of evolution. It's not in the commentary either. Should we be surprised? Since Timothy Keller is a well-known ally of BioLogos, an organization promoting theistic evolution, I suppose not.
As mentioned above, one of the greatest concerns I have about the NCC is its teaching on baptism. It's not only what it doesn't say — i.e. that the children of believers ought to be baptized. It's also what it does say, namely that baptism not only "signifies and seals our adoption into Christ [and] our cleansing from sin" but also, "our commitment to belong to the Lord and to his church." Does baptism signify and seal "our commitment"? Doesn't the one being baptized already belong to the Lord and, if a covenant child, also to his church? Again, our Baptist friends might be willing to sign on the dotted line for everything in the NCC, but count me out.
Summary
Our family went once through the NCC Devotional, but that'll be the last time. Sadly, it's not a catechism resource I can recommend to Reformed parents. Perhaps a married couple with children out of the home might use it discerningly with benefit, but it just isn't solid enough for families. My top alternative remains Starr Meade's resource on the Westminster Shorter Catechism, Training Hearts, Teaching Minds.
Readers can check out the NCC and devotional resources online here.