He Came to Save Sinners — A Meditation on 1 Tim. 1:15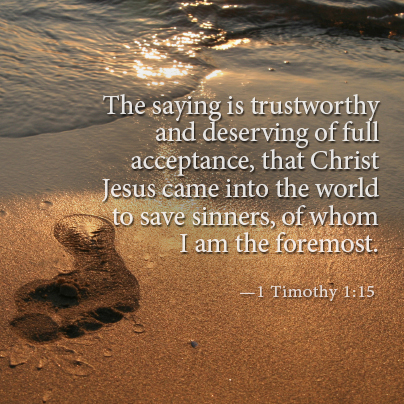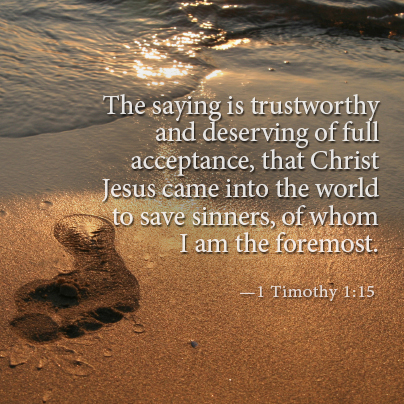 If you were somewhere with some unbelievers and they were to ask you for a brief summary of what you believe, what would you say? A great answer would be what we have here in 1 Timothy 1:15, "Christ Jesus came into the world to save sinners." If you're looking for the briefest summary of the gospel, it's hard to beat these words.
From the first words of verse 15, it would seem that it has served as a summary of the faith since the time of the apostles. Paul writes that it is a trustworthy saying. By calling it a "saying," he indicates that this was a common expression amongst Christians. Perhaps they used it to encourage one another and perhaps they used it to witness to unbelievers – probably both. Whatever the case may have been, the expression was well-known to Paul and Timothy and other early Christians. Moreover, it was a trustworthy or reliable saying and worthy of full acceptance. You know how sometimes there can be sayings that are not so reliable. There can even be sayings that circulate amongst Christians that we think are biblical, but really aren't. For instance, "God helps those who help themselves." It's not in the Bible and it doesn't express a biblical truth. God helps the helpless – that's the truth. "Christ Jesus came into the world to save sinners" is also the truth, a fully reliable saying that everyone should sign on to.
There is a lot packed into this little saying. If you were to give this brief summary of your faith, you could certainly use it as a springboard to explain all the important elements of the gospel. For example, the one who came into the world is "Christ Jesus." Who is this person? You could explain that he is the eternal Son of God. He is the second person of the Holy Trinity. He is true God. He is the Messiah – Christ means "Messiah," and Messiah means that he is the anointed one of God – anointed to be a prophet, priest, and king. He is the Messiah that was promised in the Old Testament. In the fullness of time, at just the right moment, he came into the world.
How did he come into the world? There you get to the story of Christ's conception and birth. He took on our human flesh in the womb of the Virgin Mary through the miraculous power of the Holy Spirit. He came into the world as one of us, a human being in every respect, yet without sin.
And who sent him into the world? Scripture is clear that the Father sent him out of love for his creatures. The Father sent him in faithfulness to his promises to Adam and Eve, to Abraham, Isaac, Jacob, David and others. And when the Father sent him, the Son willingly agreed to go. The Son of God didn't have to be bribed or forced. Instead, he gladly came into the world, even though he knew the cost involved. He gladly came because of his love for fallen creatures like us.
This saying also answers the question of why he came into the world. It does that with the three simple words, "to save sinners." Again, there's much compacted into these words. We can tease it out and see the full weight of what's being said here. "To save sinners," but to save them from what or whom? Sinners need to be saved from the guilt of sin, from the heavy burden of a guilty conscience. Sinners need to be saved from the slavery of sin, from the chains that keep you doing the foolishness that will destroy you. But most of all, sinners need to be saved from the eternal consequences of sin. Sin arouses the wrath of God against the sinner. God is holy and he does not turn a blind eye when people rebel against him and slap him in the face. He is the King of the universe, and when people sin they are committing treason against this King. The problem is that he does not tolerate it. It justly provokes him to wrath. Sinners need to be saved from the expression of God's justice in an eternal, conscious torment in hell.
Who are these sinners who need to be saved from all that? The answer is simple: all of us. All of us have sinned and fallen short of the glory of God. No one is exempt. We all need Jesus Christ.
Jesus Christ is the one who came to save sinners. How did he do it? First of all, God demands perfect obedience from all human beings. He expects every single human being to perfectly keep every single part of his law. Jesus Christ came into the world to do that for those who believe in him. As we look to him in faith, his perfect obedience is credited to us. The gospel announces that Christ Jesus came into the world to live the obedient life that you could not live for yourself.
He also died the death you were supposed to die. He suffered and died in your place. In his suffering and especially on the cross, he bore the wrath of God against your sin so that you would be forgiven. When he was on that cross, you were with him. You were on his heart. He offered up the sacrifice which turned away the wrath of God from you and returned his favour.
We have the guarantee of that in Christ's resurrection. When Jesus rose from the dead, that was God's way of saying, "The sacrifice for these sinners has been received and approved." It was God's sign to us that sin and death had been definitely conquered. A risen Saviour promises us that his mission to save sinners was truly accomplished.
The saying provides a simple summary of the gospel. It would be easy to memorize this and keep it in your back pocket, so to speak: "Christ Jesus came into the world to save sinners." But then Paul adds something about himself, "of whom I am the foremost." There are some who stumble over these words. People will say, "Paul, how can you say that? How can you say that you are the chief of sinners, the worst of sinners? Don't you have Jesus Christ as your Saviour? You're righteous in him." That would be one approach. Another approach would be more in line with the dominant thinking around us today, "Paul, you have low self-esteem. You shouldn't think so low about yourself. Stop being so negative about yourself and start looking at the positives." However, you cannot get around these words. They are in the Word of God. They were written by inspiration of the Holy Spirit. These words come from God and God has a purpose in these words. So we must be very careful not to discount these words and throw them away as being merely the words of an apostle suffering from either bad theology or a bad self-image.
What does God want to say to us here? We need to look at the context. In the immediate context of verse 15, Paul writes about his past life. He had been a blasphemer, persecutor and insolent or bold opponent of the gospel. His past involved much sin against the Lord. Paul looks back at that with regret. He knows how huge a debt he's been forgiven, how much grace he's been shown. So there's that.
However, if we look at the broader context of Scripture, we also see Paul as a Christian who was quite aware of the darkness which still lingered in his own heart. It was Paul the apostle who wrote Romans 7:24, "Wretched man that I am! Who will deliver me from this body of death?" When he wrote that, he used the present tense, "Wretched man that I am!" That parallels 1 Timothy 1:15, "of whom I am the foremost." That's also present tense. While he was a sinner in the past before Christ saved him, he continues to be a sinner in the present. Yes, he is justified by faith in Jesus Christ through grace alone. In God's sight, he has been declared righteous. Yet, his life still involves this struggle with sin each day. He is both justified and a sinner.
Here's the point: Paul writes this letter to Timothy as someone who has been a Christian now for several years, probably for about 30 years. The life of a Christian involves growth and part of that growth is a growing awareness of your sin. You grow in holiness, but also grow in becoming more sensitive to your remaining sinfulness. As you mature as a Christian, you became ever more aware of your need for Jesus Christ. That's where Paul is writing from. He's writing from the position of someone who's been growing in his faith. He doesn't need to look at others and their sin. He knows that the remnants of his old nature are there and they're horrifically ugly. From where he stands, he can't see any comparison with others because he knows the great need he himself has. God wants all of us to be moving to that point. He wants all of us to be saying, "Christ Jesus came into the world to save sinners, and I'm the one who needs him most because I know my own wickedness. I see it more than anyone else."
Now when we share the gospel with unbelievers, they might lash out at us and call us self-righteous. They'll assume that we think we've got it all together and we're talking down at them from a position of righteousness. We have to disarm them right away. Maybe even beat them to the punch. You have to say, "Do I think I'm better than you because I'm a Christian? No, in fact, if you were to look into my heart, like I look into my heart, you would know that I'm not. I'm a sinner too, a terrible sinner. Friend, I need Jesus Christ and so do you. Listen, I'm just a beggar telling other beggars where to find bread."
"Christ Jesus came into the world to save sinners" — it is indeed a trustworthy saying and deserving of full acceptance by us and others. Let's believe this today as we worship and always. Let's also go out into the world with the only good news that can reconcile sinners to God.