The Titus 2:1 Award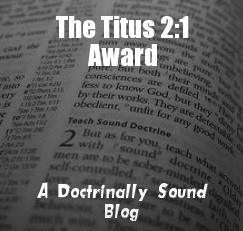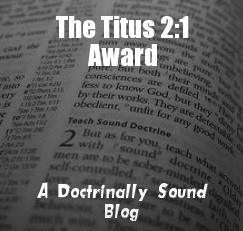 Ryan Smith over at One Christian Dad has awarded Yinkahdinay the Titus 2:1 Award. Thanks, brother! He asks me to answer the following questions:
1. If you could have dinner with any historical theologian/preacher, who would it be and why?
There are lots of choices that spring to mind, but my top one would be Guy de Brès (Cornelius Van Til would be a closer runner-up). I've done a lot of research on him. I'm impressed not only with his intellectual grasp of the Reformed faith and the gospel, but also the way it gripped his heart. I think dinner with de Brès would be enlightening and encouraging.
2. What 1 burning question would you ask?
Who wrote out all the transcripts of your debates while you were in prison?
3. What would you eat?
His favourite Belgian dish, whatever that might be. We'd definitely drink a Belgian trappist ale — something good that the Roman Catholics have produced. They might not do great theology, but they make great beer.
4. What was the last Bible verse you read?
"Out of my distress I called on the LORD; the LORD answered me and set me free. The LORD is on my side; I will not fear. What can man do to me?"
Psalm 118:5-6
Now I'm supposed to nominate another blog for this award. I use Google Reader and I follow many different blogs. Some are updated daily and others on a less regular basis. Dr. John Byl's blog
Bylogos
falls into the latter category. Considering the challenges the Canadian Reformed Churches are facing on issues relating to creation and evolution, I think this is one of the most important blogs at the moment. According to Dr. Byl, "The purpose of this blog is to promote a Christian worldview, based on the Bible as God's inerrant and fully authoritative Word, in accordance with the Reformed Confessions." I appreciate his biblical, presuppositional perspective on these issues.